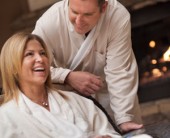 5 Relaxation Tips for the Holidays
There is no doubt about it, turning the page on the calendar to December can bring a number of mixed emotions. For some it is the lovely anticipation of holidays, filled with the joy of family and friends, entertaining, delicious food and drink. For others, thoughts of selecting the perfect gifts, hectic scheduling and pressure on finances can cause anxiety and dread!
Whichever one you may be (I am a bit of both!), enjoy this season more with these tips from the relaxation experts at The Ivy Day Spa.
1. Simplify. When it comes to gift giving look for one or two easy gifts that fit your budget, then see how many people it might work for. Buy that many plus a few more as emergency gifts. You can then personalize each one with a handwritten note and/or another small gift. I give all my friends a Spa Gift Card (watch for holiday specials!) paired with a body lotion in their favorite scent.
2. Relaxation Time. Our "busy-ness quotient" goes into overdrive during the holidays. Keep your batteries from getting fried by scheduling down time. Getting a massage, taking a warm bath or curling up on the couch with a book are all great ways to reset the stress meter.
3. Laugh. Whatever might be pushing your buttons, a good laugh will lift both mental and physical tension. Laughter can also make it easier to cope with difficult situations. If you can find something funny to share, and laugh out loud, you will improve your day and theirs too!
4. Exercise. Go for a walk with friends, hit the gym, or try a mini workout. Studies show that as little as 10 minutes of intense exercise will give beneficial results.
5. Look great, feel great. Set aside some time for personal care, such as a facial or manicure. Whether at the spa or at home, this "you time" is relaxing and you will feel a bit lighter knowing you look great!
If you would like more information about Spa Treatments and Holiday Gifts, please contact us at The Ivy Day Spa, 661-260-1244.