Brides Skin Care Q&A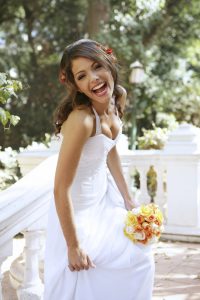 Congratulations! You are getting married and planning your special day, and want to look your best. Start with great skin care tips from our professional estheticians, and then book your customized facial and consultation for personalized care advice. We also offer a number of spa packages ideal for wedding preparation, and celebrating with your attendants and family.
Leading Up to the Big Day
How early should I start regularly consulting with my esthetician? Consult with your esthetician as early as possible to determine a regimen to address your skin care concerns well before the big day. Six months is a reasonable time frame to allow skin to adjust to a new care routine and bring a dull complexion to life. Regular facials, along with a home care routine customized to your skin type and lifestyle (your esthetician can make recommendations) are the best way to ensure healthy, glowing complexion for the wedding and long term.
What skincare treatments will help prepare my skin for the big day, and how often should I get them? The Hydra Facial or the Fire and Ice Facial would be the key to having a beautiful glow before your big day!! These can be done 4-6  weeks a part.
What should I be using on a daily basis to take care of my skin? We recommend a daily ritual of cleanse, tone, hydrate, with gentle exfoliation twice a week. However, each person is unique with their skin care needs and this plan can be adjusted to individual needs. It is best to meet with your esthetician to identify skin type, discuss concerns, and which skin care products best suit your lifestyle.
How do I minimize fine lines and aging? The Ivy Day Spa Anti-Aging Treatment effectively helps stimulate collagen production, increase cell turnover, and boost hydration. It includes a custom peel that will refine pores, tone and help improve skin texture. Light extractions are performed and a restorative mask soothes and finishes the treatment.
How do I get rid of sunspots? The Ivy Day Spa Hyperpigmentation Treatment is a combination of diamond microdermabrasion and a custom peel will lighten and brighten the skin tone, and reduce the appearance of stubborn pigmentation. Transforms dull texture, helps reduce fine lines and visible signs of aging. Includes a hydrating mask to calm the skin.
One Month Before the Big Day
What skincare treatments will make the biggest difference in the shortest period of time? One month before is a good time to work with clinical grade treatments that may have. The Hydra Facial is a wonderful treatment. It exfoliates and hydrates your skin leaving it plump and beautiful.
One Week Before the Big Day
What beauty treatments should I get the week before my wedding?  I would suggest the Fire and Ice facial to anyone having a big event or a big day right around the corner. This facial leaves the skin glowing, leaving you ready for the red carpet!! A full body scrub and massage will leave your body super soft and hydrated, as well as very relaxed!!
How can I prep my skin for a spray tan and/or waxing? A Body Treatment with full body scrub to exfoliate followed by a hydrating shea butter massage is an ideal way to prep for a spray tan, ensuring the most even coverage and long lasting color.
To learn more about Clinical Skin Care and Bridal Party Spa Packages, please contact the Ivy Day Spa at 661-260-1244.