Our Most Luxurious Facial

Featuring Glo Therapeutics Professional Skin Care, recommended for mature and premature aging skin.
This Cyto Luxe Facial* targets aging skin by helping promote Collagen, Elastin and Hylaronic Acid reproduction. This facial will reduce dryness/ dehydrated skin and the appearance of expression lines. An intense rejuvenating mask utilizes plant stem cells to help skin look refreshed, lifted and luxurious. (50 minutes) $140
*Please note this facial uses some marine based products and is not recommended for those with shellfish allergies.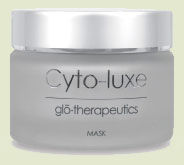 Cyto Luxe Mask for at home use, $68
Available in the Spa Lifestyle Store, this rejuvenating facial mask is formulated with powerful anti-aging ingredients include plant stem cells to help skin regain elasticity.