HydraFacial
Voted Favorite Facial by our Members! AS SEEN IN STYLE, NEW BEAUTY and AMERICAN SPA
The Unique Vortex Fusion serum delivery system cleanses the skin evenly, exfoliates and extracts to remove impurities and dead skin cells, while infusing vital nutrients to the skin. These nutrients include antioxidants, pep tides & hyaluronic acid, all highly effective at improving fine lines, elasticity, skin tone, texture, hyper pigmentation, oily congested enlarged pores and advanced signs of aging.
50 min $225
Watch these videos to see how it works!
Great for all skin types, the HydraFacial MD® Treatment is not only highly effective at improving overall skin health, but also excellent for remedying:
Fine Lines and Wrinkles
Elasticity & Firmness
Skin Tone Evenness & Vibrancy
Skin Texture
Hyperpigmentation/Photo Damage
Oily/Congested Skin
Enlarged Pores
Advanced Signs of Aging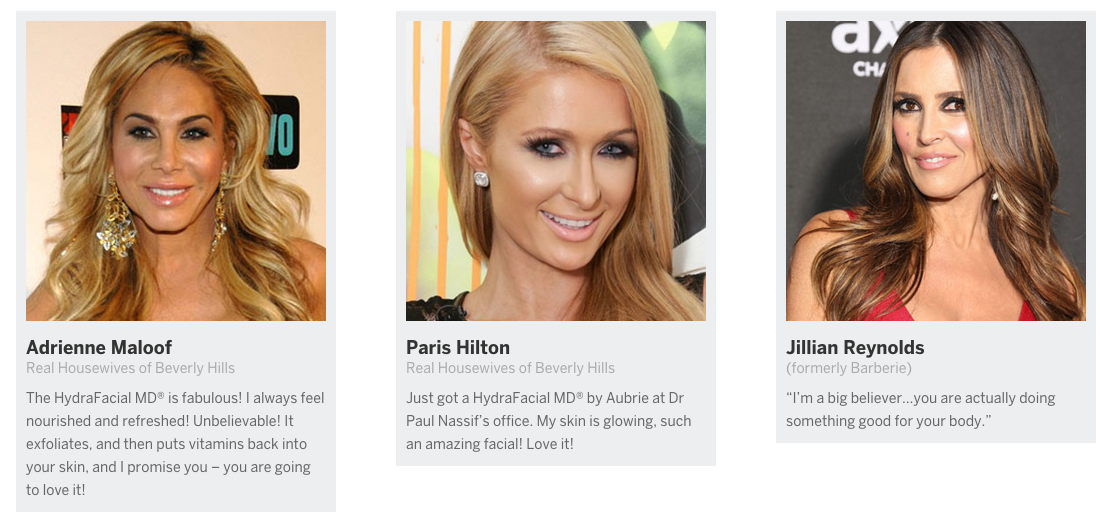 Read more about HydraFacial and Reviews
What our Guests Say:
"I really enjoyed my first hydrafacial with Amy. Not only does my skin feel amazing but she educated me along the way. Her experience and pleasant personality were greatly appreciated. I'd highly recommend an appointment with her." — Meredith C. Valencia CA, on YELP.com ★★★★★
"I was so amazed with this spa! Very clean & soo relaxing! I had a HydraFacial done and it was the best thing I could have chosen for my skin! Loved my results! Can't wait to become a member." —  Michelle G. Agua Dulce, on YELP.com ★★★★★
How the HydraFacial Works:
Vortex-Fusion®
The unique Vortex-Fusion® serum delivery system is what sets the HydraFacial MD® apart from other procedures. The multi-step treatment cleanses, evenly exfoliates and extracts to remove impurities and dead skin cells while at the same time replenishing vital nutrients including Antioxidants, Peptides and Hyaluronic Acid. Thanks to the devices' superior delivery system, these performing ingredients are able to more effectively help mitigate environmental damage, reduce fine lines & wrinkles, and plump & firm skin for long-term results you can see and feel instantly.
Your skin is most beautiful when it's healthy. That's why our focus is on restoring your skin to its healthiest state by removing impurities and replenishing your skin with essential nutrients. The result is that you will not only look better, but you will immediately notice a dramatic shift in the health of your skin.
Loved by the medical community, beauty editors and celebrities alike, the HydraFacial MD® resurfacing procedure is an incredible non-invasive treatment that utilizes award-winning, patented technology to detoxify, rejuvenate and protect your skin. It delivers immediate results & long-term benefits without downtime or irritation.
From the moment you step outside in the morning, your skin feels the effects of the environment. Pollution, toxins, wind, and UV rays known as free radicals cause undetectable damage.
Intrinsic factors inherent in the natural aging process also play a role and can contribute to enzyme loss, reduced collagen and dehydration. This combination of factors can speed up the development of free radicals, stopping skin cells from performing at their best, and ultimately leading to a decline in elasticity, resilience, tone and texture.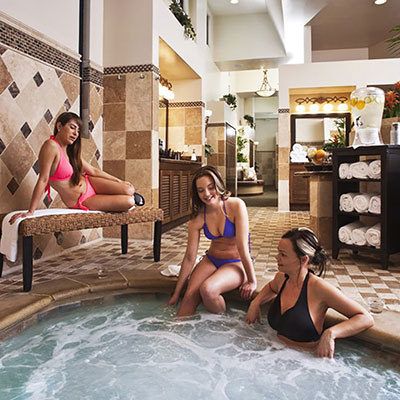 Instant Gift Certificates

Print or email instantly
The perfect gift! A luxury spa experience, at the award-winning Ivy Day Spa. 
Shop online for spa gift certificates that you can personalize and print or email instantly. A gift of wellness enjoyed by everyone!