The Ivy Day Spa Experience
Full Amenities Available
We are pleased to offer our full treatment menu, along with access to spa amenities such as hot tub and steam room with protocols observed. Guests have access to amenities before and after scheduled treatments. Your Spa Coordinator will provide additional information at check in.
We ask guests to arrive a minimum of 15 minutes prior to their scheduled appointment. Please note, should you arrive late, in consideration of the next guest we will need to complete your service at the originally scheduled time.
To enjoy access to amenities prior to your service, we recommend arriving 45 minutes before scheduled treatment time.
Luxury Spa Amenities
Your spa experience includes access to these spa amenities:
During your visit you will be provided a plush robe and slippers for your comfort

Separate areas for women and men, with dressing rooms and a locker for storing your belongings

Steam sauna, whirlpool tub, and rainfall showers 

Co-ed solarium with vaulted ceiling and lounges where spa guests can gather and relax by the fireplace, enjoy tea, water and spa snacks

14 treatment rooms for massage, facials and body treatments

Spa Lifestyle Store with a wide selection of professional skin care, spa at home products, and gifts
The time you spend at The Ivy Day Spa is your time to relax, renew, celebrate and socialize, and above all, find a revitalized and deeper sense of well being. We recommend that you arrive 45 minutes before your appointment so that you can enjoy all of the amenities that The Ivy Day Spa has to offer.
When you Arrive, Check In
Your spa experience will begin when you check in at the front desk where one of our spa attendants will provide you with a key to your own personal locker, spa sandals and a guided tour of our beautiful spa. The Ivy Day Spa has separate spa areas for men and women, along with our very popular co-ed solarium. When you enter the men's or women's spa you will find your personal locker filled with a plush robe and towel, where you can also safely stow your personal belongings. The men's and women's spas each have their own showers, steam rooms, and indoor whirlpool baths. Body wash, shampoo and conditioner are available, as well as plenty of comfy towels.
Plan to Relax
Allow enough time to enjoy a relaxing soak in our perfect temperature whirlpool bath, which will open your skin's pores and relax your sore muscles before a treatment or after exercise. You can also enjoy the co-ed solarium where you can relax in front of our fireplace while sipping on a warm cup of coffee or tea, enjoying some healthy snacks, reading a book or magazine, or catching up with friends.
After you've enjoyed the spa amenities, you will meet your therapist in the solarium 5 minutes prior to your appointment start time. Your therapist will then escort you to your private treatment room, give you a moment to get settled and then begin your treatment.  All of our treatment rooms are private with the exception of our nail care rooms which have multiple chairs.
When your relaxing spa treatments are complete, we welcome you to stay and continue to enjoy the many amenities our beautiful spa has to offer. After all, the time you've spent with us was meant to be your much needed escape from the stresses of everyday life.
Before heading back to reality, you can spend some quality time perusing our Spa Lifestyle Store where we feature a full selection of skin and body care products, spa gifts, and so much more.

Together Massage
No extra charge, but space is limited. This treatment is perfect for couples, BFFs, mother daughter spa days. Relax side by side in one treatment room, each with your own therapist and table. Price based on your personal choice of massage.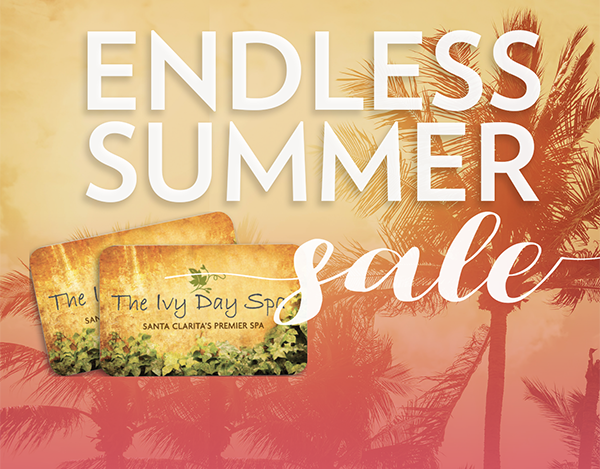 GIFT CARD SALE!
Save 15% on purchases $100 and more
Shop online and print or email instantly.

The perfect gift! A luxury spa experience, at the award-winning Ivy Day Spa. A gift of wellness enjoyed by everyone.
Gift certificates never expire and may be redeemed for spa treatments and in our Spa Boutique. Please note that gift certificates may not be used for same day purchases, to buy gift cards, or for gratuity.