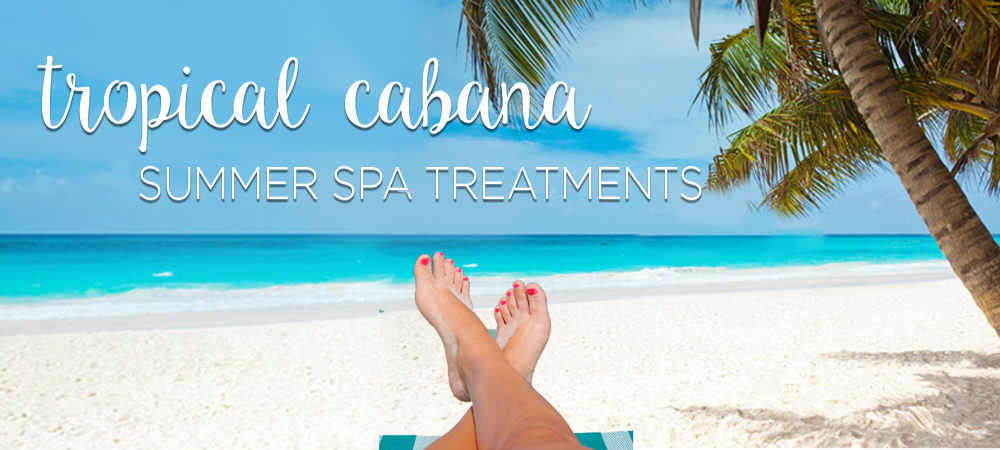 Tropical Cabana Warm Stone Massage & Body Treatment
Tropical scents are calling you, take a much needed getaway! Relax with this nourishing body treatment, the tropical scents will melt away stress and tension, and leave you with the softest skin you can imagine. Begin with a sumptuous back massage enhanced with hot stones. Next, close your eyes and drift away as we gently exfoliate from your shoulders to your toes with a delightful sugar scrub. Then, you will be wrapped, and while in your warm blanket cocoon, we continue with a face, neck and/ or shoulder massage.  This full body treatment will leave you feeling rested and your skin in tropical bliss.
Tropical Cabana Massage & Body Treatment $155 (80 min treatment)
Tropical Cabana 

Manicure or Pedicure

 
A vacation for your hands or feet! Close your eyes and relax as rough edges are gently polished away with exotic tropical Sugar Scrub, and rich Shea Butter is massaged in leaving your skin feeling soft, moisturized and renewed! Professional cuticle work, nail shaping, buffing and polish application complete your tropical scented treatment. 
Tropical Cabana Manicure or Pedicure  $50 (50 min)
Treat yourself to a Tropical escape and combine a Manicure and Pedicure for a 100 minute relaxing vacation scented treatment. 
EXOTIC TREAT!  Manicure + Pedicure  100 min  $100 
*Special offers may not be combined with any other offer, discount or coupon. Limited availability, first come, first serve.

Instant Gift Certificates!
Shop online now and print or email gift instantly.

Want to be the first to know about Spa Specials, Events and Sales? Sign up for our e-newsletter today.