Serums for Success
Personalize Your Skin Care with Serums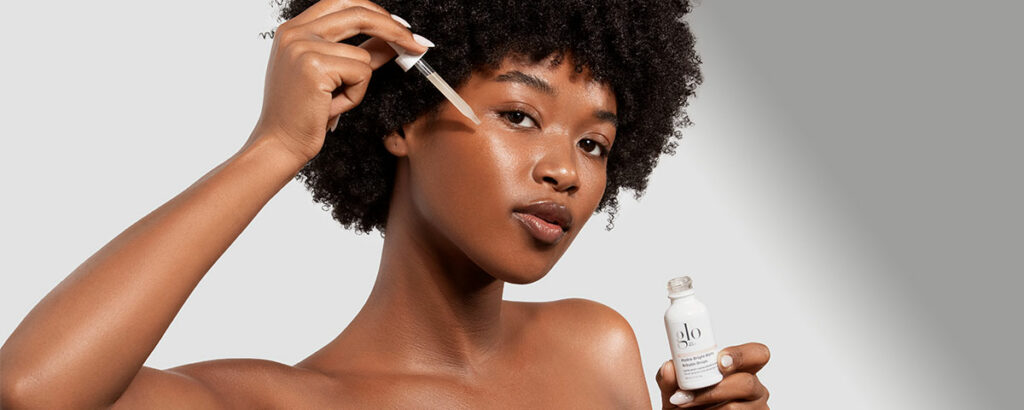 More advanced, concentrated formulas than any other product, serums target specific skin care issues with powerful actives for fast acting visible results.
---
"Essentially a serum is the vehicle that we're delivering active ingredients through," explains Dr. Nina Desai, board-certified dermatologist. "Serums are the perfect way to target a specific concern – directing more of that active ingredient solution to exactly where it needs to go."*
Meet The Serums from Glo Skin Beauty
C-Shield Anti-Pollution Drops – The Skin Defender
An essential daily serum for improved clarity and radiance, featuring 15% vitamin C and glutathione for protection against environmental and blue light damage.
HA-Revive Hyaluronic Drops – The Hydration Hit
Perfect for quenching dehydrated, dry skin, boosting moisture levels, plumping and strengthening for a refreshed radiance.
GlyPro Retinol Drops – The Smoothing Pro
This key ingredient for anti-aging boosts collagen production and cell turnover, for firmer, brighter skin. Consistent use will result in skin looks fresher, less dull, with improved tone and texture. Visibly reduces fine lines, pores, for smoother skin appearance.
Bio-Renew EGF Drops – The Anti-Aging Expert
This age-defying serum helps restore the skin's protective barrier, increase skin density, and improve texture in just one week. Next to retinol, EGF drops are one of the top ingredients for repairing, firming, and anti-aging.
Beta-Clarity BHA Drops – The Clarity Controller
perfect for clarifying and smoothing, tackling blemishes and breakouts. Balance and smooth with this salicylic acid and retinol clarifying serum. It enters the pores and eliminates bacterial build up, even preventing spots before they reach the surface. It targets pores and breakouts, refining for a clearer complexion. Ideal as a targeted, concentrated treatment for clearing the complexion.
Serum contains retinol, use in at night only, and avoid using it at the same time as the GlyPro Retinol Drops – you can alternate between the two. Ask your esthetician about proper use. 
Hydra-Bright Alpha Arbutin Drops – The Glow-Getter
This serum pairs a botanic brightener with lactic acid to effectively revive dull, lackluster skin and smooth out blotchiness and lighten dark spots, leaving complexion radiant.
For more information about serums and targeting your specific skin care needs, please consult your esthetician. Call 661-260-1244 to make an appointment for a customized spa facial.
*Read more about these products from Glo Skin Beauty and their use at gloskinbeauty.com